5 Things I've Learnt Since I Started Functional Training At BOLD SA
Major body benefits right here.
---
---
I've always done a lot of running and cycling, but when it comes to core workouts and strength training, I'm terrible at committing! So when the Women's Health #WHGetsFit Fitness Challenge rolled around, I knew it was time. I'd tried out a few gyms in Cape Town, but hadn't found one that actually worked with my schedule, training style and personality. Then a friend recommended BOLD SA. Now it's basically my second home.
READ MORE: 20 Simple Exercises That Show Results After One Workout
Lesson 1: I Can Do Early Mornings
BOLD sessions are scheduled around the working lifestyle: before or after work. I'm the morning-workout type, but before BOLD, it was more of an occasional early-morning run or ride – 7 or 8 am earliest. Now the first workout sesh is at 6 am, which means I had to set my alarm for 5 am. Eish. It was hard to get into the new routine, but now early mornings are a part of my lifestyle. Who needs sleep anyway? Plus, no traffic driving into town, getting a sweat sesh in before most people are awake… Honestly, I'm loving getting up with the sun (or before the sun #winterproblems).
READ MORE: 7 Things Girls Who Work Out In The Morning Do
Lesson 2: I'm Stronger Than I think
In the beginning, I really struggled. The five-kilo weights seemed impossible to lift. And, um, how many burpees? Each morning I'd have to give myself a pep talk. Luckily, I had a BOLD workout buddy to encourage me and keep me motivated. Now I'm working out with the 10kg weights – something I never thought would happen. And I can do push-ups – like, real ones.
Lesson 3: Strength Training Really Helps
Strength training always seemed to be a toning, make-me-look-pretty form of exercising. Cycling and running were the real workouts – or so I thought. I have never sweated or suffered so much in my life (in a good way). But the biggest surprise was the improvement I noticed in my running and cycling. After thinking of these two forms of training as completely separate, I've come to learn that they complement each other. A lot.
READ MORE: What Is the 100 Pushups Challenge And Should You Try It?
Lesson 4: Sometimes All You Need Is A Sweat Sesh
I went through a few tough life situations over the past few months and I actually don't know how I would've made it without BOLD. This may sound completely exaggerated, but having a routine to stick to helps, having an early morning workout to start your day positively helps, and having the support of the amazing people at BOLD helps. If you are going through some ups and downs, then it's probably the best time to commit to something that you can count on and that will get the endorphins flowing. A workout that will make you feel good. Added bonus: you'll end up looking good too.
READ MORE: "Fitness Helped Me Deal With Family Drama, Failing Friendships And Depression"
Lesson 5: It's Part Of My Routine
I joined BOLD on 13 March and three months later I can officially say that strength training is part of my routine. I even do random push-ups and squats in my own time now. Waking up at 5 am is still tough, but it's also part of my routine. What's more, I've set goals for myself that aren't cycling- or running-orientated. I want to be able to do a pull-up (or a couple) and I want to have solid abs. I'm on my way to achieving them. We'll see about that at the end of the #WHGetsFit challenge. But for now…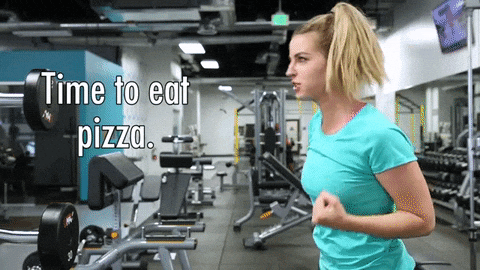 READ MORE ON: Fitness Fitness Advice Fitness Challenge